Japan holds ceremony to mark 70 years since devastating Nagasaki atomic bomb
Comments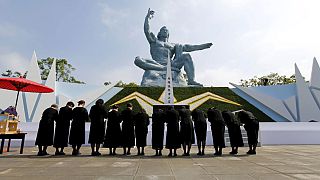 Japan has marked the 70th anniversary of the atomic bomb that devastated the city of Nagasaki with a ceremony attended by Japanese dignitaries, survivors and guests from 75 countries.
They gathered at Nagasaki Peace Park and held a minute's silence at exactly 11:02am, the time the bomb exploded over the city on August 9 1945. Over 70,000 people were killed.
The first atomic bomb in Hiroshima three days earlier left 140,000 residents dead.
The Prime Minister Shinzo Abe said that Japan being the only country in the world to have experienced the "horrors of a nuclear attack" meant that he would continue to push for a world without nuclear weapons.
However, the mayor of Nagasaki criticised Abe for pushing legislation that would expand Japan's military role in East Asia. He added that many Japanese were uneasy with Tokyo's fading commitment to pacifism following the end of World War Two.
Following the ceremony children gathered around one tree, which managed to survive the attack. It has since been designated a natural monument.
The bomb instantly wiped out a third of the city, killed thousands and left many more to suffer the effects of radiation sickness.