Mexican media under threat after journalist killed in the capital
Comments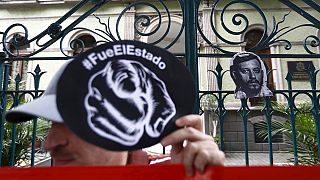 Campaigners have gathered outside government offices in the state of Veracruz, Mexico to condemn the investigation into the murder of a journalist and four women.
A man has been arrested in Mexico as a suspect in the death of photojournalist Ruben Espinosa and four others pic.twitter.com/kqSB3BPdOL

— AJE News (@AJENews) August 6, 2015
Rubén Espinosa was found with gunshot wounds along with four women in an apartment in Mexico City over the weekend.
Espinosa had recently fled Veracruz where he felt under threat, according to the investigative magazine Proceso
Police say one person has been arrested in connection with the killings.
However, activists accuse Veracruz governor Javier Duarte of being behind the murders.
Photog #RubenEspinosa murder has Mexican media furious & afraid, says @Jayhootsenhttp://t.co/ShXyMqCjAXpic.twitter.com/rWnZL94vPU

— GlobalPost (@GlobalPost) August 6, 2015
According to the Committee to Protect Journalists, 11 have been killed in Veracruz since 2010.

No safety for journalists in Mexico. http://t.co/HOk7Gng7nI#RubenEspinosa#NadiaVera@Andalalucha#Justicia5Narvartepic.twitter.com/FqbyOsgTkn

— Fatin Chowdhury (@fatinic) August 5, 2015
Two other Veracruz journalists have been found dead outside the state.
The governor said he "lamented" the deaths and supported the police in their investigation.
Con esta foto del gober Javier Duarte podría ser declarado culpable de cualquier delito pic.twitter.com/gcasphgjZV

— Miguel Ángel Juárez (@miguelangeljf) August 5, 2015
Advocacy group Article 19 published a warning on June 15 saying Espinosa was being tailed and harassed in Veracruz.