Turkey: two soldiers killed in suicide attack blamed on PKK
Comments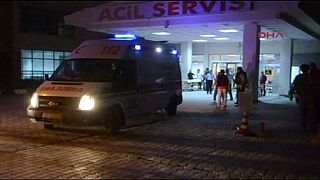 Two soldiers have been killed and 24 others wounded in a suicide attack in eastern Turkey.
It is claimed militants from the Kurdistan Workers Party, or PKK, were behind it.
A tractor laden with explosives was used to strike a military police outpost in the Dogubeyayit district of Agri province, which borders Iran.
Last month, Turkey launched a campaign of air strikes on PKK camps
in northern Iraq. Officials say they are in response to increased violence.
There has been a further escalation of armed attacks by the militants since then.
At least 16 security force members have now been killed in violence, blamed on the PKK, over the past two weeks.
The leader of Turkey's pro-Kurdish opposition accuses the country's president of launching air strikes in Iraq and Syria to prevent Kurdish territorial and political gains.