Fears of upsurge in violence following death of Palestinian infant
Comments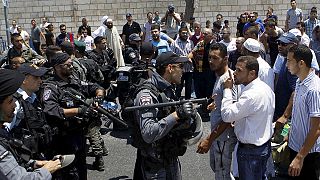 Another day and another young life lost as medical officials confirmed the death of a Palestinian teenager near the border fence in the northern Gaza Strip, shot by Israeli soldiers.
An Israeli military spokesman said their forces shot at the suspects when they failed to heed calls to stop throwing stones.
Speaking following the teenager's death Hamas spokesperson, Mushir al-Masri said, "the Israeli enemy is showing how guilty it is by breaking every ceasefire agreement." He added that "the resistance movement will decide how to react to their Zionist crimes."
Tensions have been heightened in recent days between Israelis and Palestinians following the death of an 18-month old toddler in a suspected arson attack by Jewish settlers in a West Bank village.
The Israeli Prime Minister, Benjamin Netanyahu, vowed to punish those responsible:
"Israel's absolute commitment is to fight this evil, to find the perpetrators and bring them to justice. We have to calm spirits and recommit ourselves to our joint battle against terrorism and extremism."
Netanyahu also condemned the attack in a rare telephone conversation with Palestinian leader Mahmoud Abbas.
Meanwhile, clashes broke out in Hebron and Jerusalem in response to the death of the infant with several Palestinian protesters injured.