An 18-month-old Palestinian boy has been killed in an arson attack in the West Bank.
Jewish settlers are suspected to be behind the fire, which also badly hurt the toddler's four-year-old brother and his parents.
The house is said to have been torched early this morning in the village of Duma, near Nablus, as the family slept.
"It's a horrible act, which has never been committed before. Except for what the Nazis have done against the Jews. And I think there was complicity between the occupiers and the Israeli army," said Akram Aljoub, Nablus Governor.
The word "revenge" was reportedly scrawled on a wall outside the house.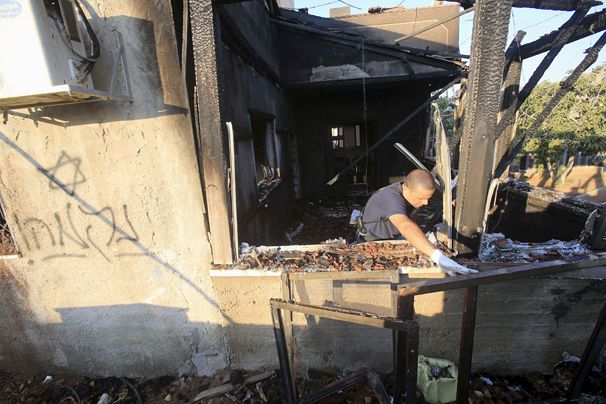 This is the family bedroom. Horrific scene. pic.twitter.com/7VzVXLHkmF

— Stefanie Dekker (@StefanieDekker) July 31, 2015
A spokesman for Palestinian President Mahmoud Abbas claimed Israel was responsible.
Prime Minister Benjamin Netanyahu described it as a "terrorist attack" and has vowed to track down those responsible.
An Israeli police spokeswoman said the torching was an apparent "Price Tag" attack, a reference to militant settlers who threaten to exact retribution for any Israeli government curbs on settlement expansion in the West Bank.
Though Israel has vowed to crack down on such assailants, only a handful of indictments have been handed down.
The Palestinians seek a state in the West Bank, East Jerusalem and the Gaza Strip. In the West Bank, the Palestinians have limited self rule, but nearly 60 percent of the territory remains under full control of the Israeli military.
Israeli settlements are considered illegal under international law. The last round of US-brokered peace talks between Israel and the Palestinians broke down in 2014.