Cecil the lion: angry protesters gather outside Walter Palmer's office
Comments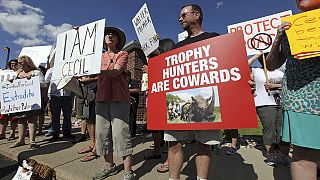 The hunter has become the hunted… Dozens of protesters have gathered outside the office of American dentist Walter Palmer, who provoked international uproar by killing Cecil, Zimbabwe's most famous lion.
An avid big-game hunter, he allegedly paid up to 55,000 dollars to hunt the beast.
"Obviously, this is not the first time he's done it, but I hope it's the last. I hope he learns a great lesson so we get rid of one more big-game hunter and murderer of animals… Because that's what he is," said one woman.
"We want to keep this going," another added. "Our plan was to be here until he came back, although that doesn't look like it's going to happen – whether he runs because he's a true coward, or because he's extradited."
Palmer has gone to ground, but is believed to have returned to the US after shooting the 13-year-old lion.
No charges have been filed against him, however Theo Bronkhorst, a professional hunter from Zimbabwe, has been charged with failing to prevent an unlawful hunt.