Anger over 'slaughter of 250 pilot whales' in the Faroe Islands
Comments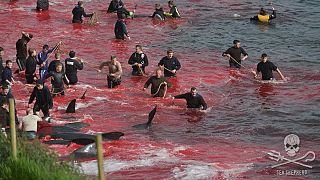 Sickening new footage has emerged claiming to show pilot whales being killed in the Faroe Islands.
Campaigners say around 250 were slaughtered on Thursday (July 23) during "grindadráp", traditional hunts where pilot whales are herded into a bay and attacked.
Critics, such as the Sea Shepherd Conservation Society, say the practice is cruel and unnecessary.
But proponents claim the hunts are regulated and that average annual catches do not endanger the long term future of whales.
The MarineBio Conservation Society says while population numbers are unknown they are not considered endangered.
SSCS says around 250 pilot whales were killed during two separate hunts on July 23 in the Faroe Islands, which lie between Iceland and Norway.
Five people from the charity – in the region to try to stop the killing – have been arrested.
SSCS said: "As many as 1,000 long-finned pilot whales are brutally killed in the Faroe Islands each year.
"The slaughter occurs mainly during the summer months in so-called 'traditional' communal drive hunts that locals refer to as "grindadráp" or simply, 'the grind', but more accurately this practice should be called what it truly is – mass slaughter."
Main photo credit: Mayk Wendt, Sea Shepherd Global