Italy: angry locals refuse to accept migrants in their communities
Comments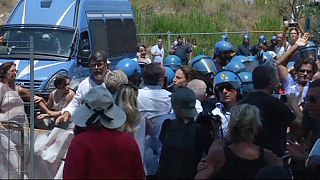 A mattress burns in the middle of the street.
Residents of Quinto, a neighbourhood of Treviso in the north of Italy are angry that migrants are being moved into empty apartments nearby.
Huffingtonpost.it – Quinto di Treviso, vincono i residenti: la Prefettura manda via i profughi dopo la rivolta dei… http://t.co/7B97mVqBHA

— The News Tweets (@the_newstweets) 17 Juillet 2015
They got inside and piled all the new arrivals belongings up outside, before pitching tents and refusing to go back to their homes until the situation was settled.
"I am sorry," one woman said, "but I do not intend to pay 28 more years of a mortgage for my children to live in a refugee camp. It is not right!"
Fascist salutes in Casale San Nicola
Da Treviso a Casale San Nicola, tensioni sui migranti http://t.co/LxrKuWuyzopic.twitter.com/s0FbjEugjK

— La Stampa (@la_stampa) 17 Juillet 2015
Meanwhile, in Casale San Nicola near Rome, dozens of locals tried to turn back a bus bringing migrants into the town.
There were fascist salutes from the gathered crowd.
Two people were arrested. 14 police officers were slightly injured.
The protest was backed by Casa Pound – a small, far-right group. "None of these 19 refugees are Eritrean or Syrian, the only ones who would be entitled to stay in a reception centre for refugees," said group President Simone di Stefano. "These people are frauds, they are North Africans, Senegalese and Congolese".
Italy bears the brunt of migrants arriving across the Mediterranean from the Middle East and North Africa.
A national plan has been agreed to house migrants across the various regions of the country.
Plans for a system of national quotas in response to their soaring numbers were scrapped in June.