Tsakalotos reveals notes but no new proposals at Eurogroup
Comments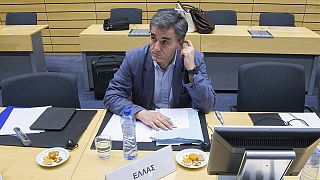 Greece turned up at Tuesday's Eurogroup meeting with a new finance minister but no new firm proposals on how to step back from the brink of a euro exit.
Euclid Tsakalotos was described a "breath of fresh air" by one of his eurozone counterparts after making his first presentation since Sunday's 'No' referendum.
But he mistakenly carried a notepad in his hands as he left the meeting, revealing his personal notes to awaiting photographers.
Eurogroup chief Jeroen Dijsselbloem said Greece had to make the next move after the Tsakalotos repeated a plan for a European Stability Mechanism (ESM) loan for two years worth about 30 billion euros.
"The first step will send the Eurogroup a new request letter for ESM support and as soon as that comes in, hopefully tomorrow morning, we will have a conference call from the Eurogroup to formally start the process of dealing with this request."
As the uncertainty drags on, analysts wondered how Tsakalotos would be able to formulate a reform package that he can sell to the Greek population as well as creditors at this late stage in the crisis.
Alexander Kritikos from Berlin's DIW Economics Institute said: "The way both sides could save face would be a totally new reform package, something Greece very urgently needs. What's needed are economic reforms and reforms which improve business sentiment. If there were an agreement on a substantial package I think creditors would very quickly react positively."
All European markets, part from Athens, closed lower on Tuesday as traders stayed on the sidelines awaiting further developments.
Milan closed down 3 percent while Paris and Frankfurt were around 2 percent lower each.