Greeks worry about their future and their savings
Comments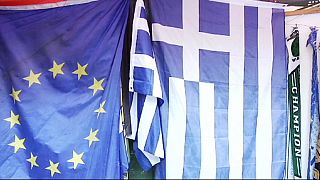 Many Greeks are worried because most banks have remained closed since last Monday.
People wait in long lines at cash machines to withdraw their daily limit of 60 euros. That amount looks likely to be lowered.
As many newspapers paint a grim picture of the country's future, some Greeks are still confused about what they voted for.
"The choice between 'yes' and 'no' was interpreted by foreigners as yes or no to Europe," said one vote. "If 'yes' was our choice, we would have sent a message that we wanted to stay in the eurozone. By saying 'no' I don't really know what message we've sent."
"Tsipras can get a better agreement than the one suggested," suggested another. "We are not against the Europeans. We certainly don't agree on everything, but they can not ask for a thousand things and not give even one."
Euronews correspondent Apostolos Staikos reported from Athens.
"Greeks are united, but puzzled, one day after the referendum.
Closed banks are causing cause great stress to ordinary people.
This is why they're calling on the government to sign an agreement in order to restore hope in the country."