Russian plane-maker Sukhoi presented at the Paris Air Show the 17th of 30 deliveries of its Superjet 100 to Mexican carrier Interjet. With the remainder of the order expected to be finished by the end of 2016, this Central American presence is giving Sukhoi greater confidence in its sales outlook.
Superjet is a joint venture between Sukhoi Holding and Italy's Finmeccanica-Alenia Aermacchi and the aircraft itself is a testament to international cooperation: the landing gear and avionics come from French groups Safran and Thales, the braking systems from America's UTC, the flight control system Swiss-based Liebherr, while the interior design is done by Pininfarina, the Italian group that designs Ferraris.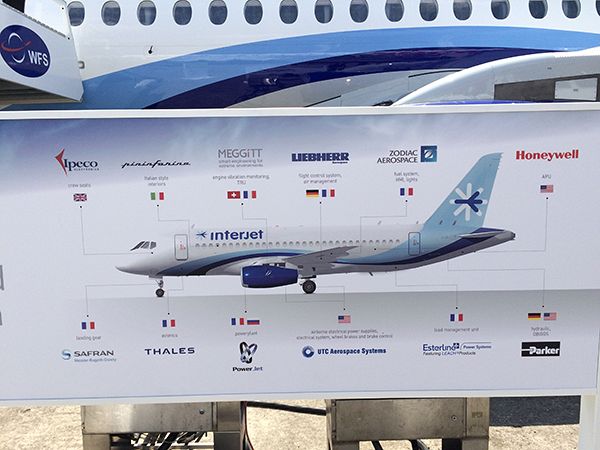 The Superjet's international DNA
While Sukhoi hails the Superjet's technical aspects as state of the art, it is the interior that is striking. The goal of the Superjet according to its technical teams is "to provide a new standard of comfort." On this Interjet version, all 93 seats are unusually and refreshingly spacious. The seat pitch, the distance between a seat and the one in front or behind, is 34 inches. By means of comparison, in an Airbus operated by Easyjet the seat pitch is 29 inches (you can compare seat pitch on various flights here ). Those extra inches will be a relief for those taller passengers not used to enjoying much leg room.
The seat width, at 18.5 inches, is at least half an inch more than what passengers will typically find in economy class aboard an Airbus regional aircraft and more again compared to a Boeing.
Of course the seat pitch depends on the cabin configuration chosen by the airline; with 98 seats instead of 93 the pitch is 32 inches, and falls to 30 inches for 103 seats, which is more in line with most regional aircraft.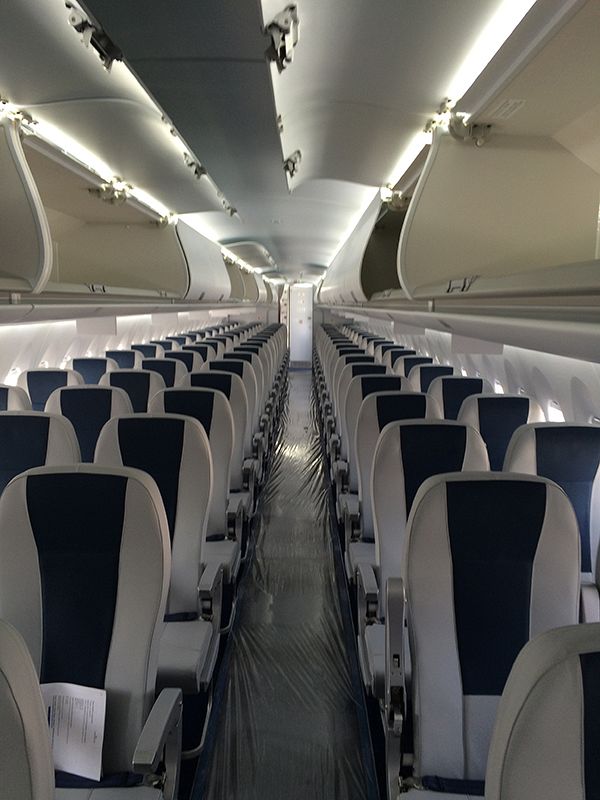 Depending on the airline, Superjet 100 passengers should enjoy more legroom than they are used to
Will the Superjet 100 export outside its own sales comfort zone?
Interjet is the Superjet's first Western buyer and second largest customer after Aeroflot. The majority of buyers are Russian or from ex-Soviet states. Sukhoi is now looking to Asia and the lucrative potential of the Chinese market that has all aircraft manufacturers licking their lips. Sukhoi are making China and India their sales priority and parent company UAC has set up a leasing company with China to encourage sales there.
What may hold back Superjet sales is the lack of 'family'. While other manufacturers offer shorter or longer versions of their regional aircraft, the Superjet 100 is an 'only child'. Sukhoi is looking to change this though. Market research has suggested that sizing up would be wiser than sizing down so we may well see a 120+ passenger Superjet that would enter the same market space as the likes of the Bombardier Cseries, which made its debut at this year's Paris Air Show, and the Embraer E-jet family.
Airlines will ultimately judge whether the Superjet 100 lives up to the 10% increased fuel efficiency that Sukhoi promises. But if the promise to not compromise on passenger comfort is kept, that is a very persuasive argument for those who buy flight tickets