Have you ever given any thought about how figures from old masterpieces would look in everyday situations? Well this is what a Hungarian photo-journalist has tried to reproduce in Budapest. Marton Nemenyi took pictures of the modern-day city on his mobile and super-imposed classical characters from major Hungarian paintings from the past 200 years.
So, for example, destitute characters from Mednyánszky László's Szerbiában, depicting a 1914 battlefield, can be seen in a 21st century context as they lay in an underground station. In another creation, a character from Munkácsy Mihály's Ásító inas from 1869 yawns nonchalantly on a metro while another plays her violin on a tram.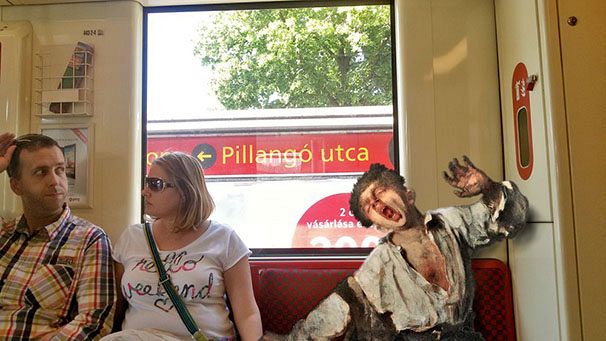 Munkácsy Mihály: Ásító inas (1869)
Above: Munkácsy Mihály: Rőzsehordó nő (1873)
For more of Nemenyi's four-dimensional creations click here
All views
Get a different perspective
Every story can be told in many ways: see the perspectives from Euronews journalists in our other language teams.