Tens of thousands of people gathered in Hong Kong on Thursday (June 4) for a candlelight vigil on the anniversary of the 1989 Tiananmen Square pro-democracy protests.
Organisers said 135,000 people took part.
Hundreds of civilians are thought to have died in the demonstrations 26 years ago, after the Chinese government launched a crackdown.
Beijing has never revealed how many people died.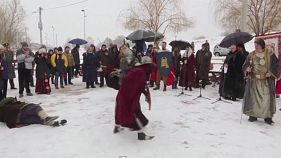 Sub zero temperatures in Serbia did not deter history and heritage fans.