Republican Rick Santorum announces White House bid
Comments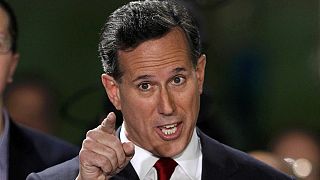 Republican Rick Santorum has announced he is to seek his party's nomination to run for the White House in 2016.
The former senator from Pennsylvania is well liked among social and religious conservatives, but after failure in his 2012 campaign he is looking to broaden his appeal:
"Working families don't need another president tied to big government or big money, and today is the day… today is the day we are going to begin to fight back," he told supporters.
Santorum becomes the seventh Republican to throw his hat into the ring.
The 57-year old will face a challenge for the hearts and minds of conservative Christians from former Arkansas Governor Mike Huckabee.
Is there another candidate lurking in the bushes?
The son and brother of two former US presidents, Jeb Bush, is still to decide if he will run.
He has formed a political action committee, which lays the foundation for a potential bid and he is expected to make an announcement in June.