'FIFA lives in a kind of 'Alice in Wonderland' world'
Comments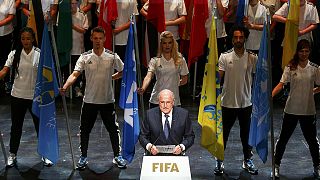 The 'beautiful game' has been plunged into turmoil as seven powerful football figures face extradition to the US to face corruption charges.
There is a lot of money surrounding football. Governments are very tempted to become involved because of national prestige and so on. Of course it is the world's most popular sport and the combination of money and popularity is very tempting to many governments.
Fourteen senior officials and executives from the world's most popular sport are accused of wire fraud, bribery and money laundering over two decades.
Euronews reporter Chris Cummins spoke to Robert Barrington from Transparency International, an organisation devoted to combatting global corruption.
Chris Cummins euronews:
"What was your initial reaction to the decision by the US and Swiss authorities to arrest the FIFA executives and others in such a high profile and well-planned operation?"
Robert Barrington Transparency International:
"A couple of reactions. I think the first one has to be it's not really much of a surprise, because there have been so many corruption allegations surrounding FIFA for so long, and the second is; it's about time, what took them so long?"
Chris Cummins euronews:
"Are there any global politics behind the investigations, in particular the probe into the 2018 World Cup to be held in Russia?"
Robert Barrington Transparency International:
"It's tempting to speculate about a Russian connection, particularly given that President Putin has come out in support of Sepp Blatter but, as I understand it, these investigations started some years ago, before the recent geo-political spats between Russia and the rest of the world. I'm not sure that's really behind it."
Chris Cummins euronews:
"What now for FIFA and its president Sepp Blatter?"
Robert Barrington Transparency International:
"Well, with most organisations you can predict, more or less, what happens when you have a case of this type; with a global corruption investigation particularly one involving the US authorities.
"The people at the top express repentance, sometimes the board gets them to go, there is a very complete investigation, they commission themselves as well as the external investigation and it ends with people going to jail and large fines.
"However FIFA lives in a kind of 'Alice in Wonderland' world that (makes) it really difficult to predict what will happen next. We know what should happen, but what will happen is another question."
Chris Cummins euronews:
"How is it possible for a sporting organisation to become so powerful, that it sits at the top table and influences government thinking?"
Robert Barrington Transparency International:
"FIFA has been pretty remarkable in that respect, it really has wielded a huge amount of influence around the world and the very simple answer is money. There is a lot of money surrounding football. Governments are very tempted to become involved because of national prestige and so on. Of course it is the world's most popular sport and the combination of money and popularity is very tempting to many governments."
Chris Cummins euronews:
"Is the world a better place, 24 hours on?"
Robert Barrington Transparency International:
"Do you know I think it's a slightly better place. I think it will be a much better place when those who are responsible for this kind of corruption are really held to account, and when FIFA is a reformed organisation, and when we know that global football, and indeed any sport, is in the hands of people who are running the sport in the interests of the game and not in their own financial self-interest."