Dozens of suspected migrant graves found near Malaysia-Thailand border, police reveal
Comments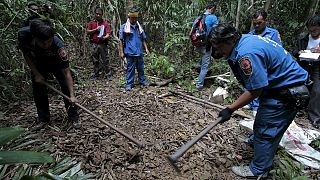 Malaysian police have revealed that 140 graves, believed to contain the remains of migrants, have been found near the country's border with Thailand.
They are understood to have been discovered at human trafficking camps.
"The operation which we have been conducting from May 11 to May 23, we discovered 139 of what we believe are graves," said Khalid Abu Bakar, Inspector General of Police.
Meanwhile, amid international criticism over its response to southeast Asia's migrant crisis, Myanmar's navy has rescued a group found in a boat off the country's coast.
Around 3,700 migrants – most of them said to be Rohingya Muslims and Bangladeshis – have landed on boats in Malaysia and Indonesia this month after a crackdown on trafficking in Thailand.
Those who have found themselves in Indonesia feel lost. They are homeless and terrified about their future.
"I was born in Myanmar, but they don't want me. I tried to go to Thailand or Malaysia, but I can't go anywhere because they don't want me," said Hussein Ahmed, who is at the Birem Bayeun refugee camp in Langsa.
While many migrants have been brought to dry land, others remain at sea.
The Thai trafficking crackdown appears to have disrupted smuggling routes, leaving groups trapped on what the UN's described as "floating coffins."