President Nkurunziza returns to Burundi after 'failed coup'
Comments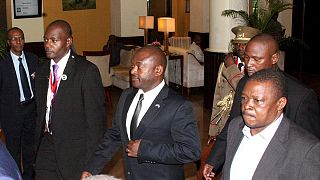 Burundi's President Pierre Nkurunziza, who was in Tanzania when a general attempted to overthrow him, has returned to the African nation, the presidency said in a message on Thursday.
"President Nkurunziza is back in Burundi after the attempted coup. He congratulates the army, the police and the Burundian people," the message from the presidential office said.
The army chief had earlier declared that an attempted coup staged when the east African leader was abroad had failed.
But bursts of gunfire in the capital and fighting for control of the state radio during the day indicated there was still determined opposition to the president, who sparked protests and the coup attempt by his move to seek a third term.
Critics said his re-election bid violated the constitution and a peace deal that ended an ethnically fuelled civil war that ended in 2005, plunging the nation into a deep political crisis.