Heavy gunfire and tear gas were fired as police clashed with protesters who were throwing stones in a suburb of Burundi's capital on Tuesday during a demonstration against the president's bid for a third term.
Police fired the shots during clashes in Butarere district, where hundreds of protesters had gathered.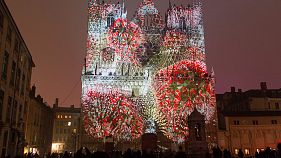 Thousands of people have attended Lyon's famous Festival of Lights amid high security.