Heavy gunfire and tear gas were fired as police clashed with protesters who were throwing stones in a suburb of Burundi's capital on Tuesday during a demonstration against the president's bid for a third term.
Police fired the shots during clashes in Butarere district, where hundreds of protesters had gathered.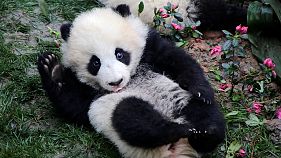 Giant pandas around the globe are welcoming the Spring Festival, or Chinese Lunar New Year, which falls on January 28 this year.