Carson and Fiorina enter crowded race for Republican presidential nomination
Comments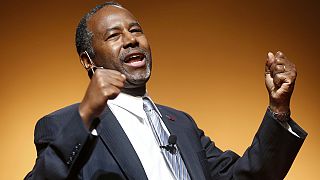 Retired neurosurgeon Ben Carson is one of two more candidates to announce they are running for the 2016 Republican presidential nomination.
Tea party favorite Ben Carson is running for president http://t.co/HHg4qaktmG

— Daily Mail US (@DailyMail) May 4, 2015
Carson who declared his interest in Detroit on Monday is popular with the conservative Tea Party movement and is the first African- American to enter the growing Republican field for the nomination race.
Former Hewlett Packard CEO Carly Fiorina has also declared that she is standing while taking a shot at Democratic front runner Hillary Clinton saying she represents a political class that Americans are "disgusted with".
Carly Fiorina declares bid for president as new foil to 'not trustworthy' Clinton via josephjett</a> <a href="https://twitter.com/hashtag/tech?src=hash">#tech</a> <a href="http://t.co/rJYTLgemMf">http://t.co/rJYTLgemMf</a></p>&mdash; Katariina Nikulainen (KatNikulainen) May 4, 2015
Senators Marco Rubio, Ted Cruz and Rand Paul have already entered the race while more are expected.
Meanwhile Clinton's campaign for the Democratic nomination has been on the defensive over questions about donations to the family's charitable foundation.
It has been criticised for accepting funding from foreign governments for its work abroad and she's been forced to deny that her work as President Obama's secretary of state had been compromised.