A group of nearly 300 Nigerian women and children were rescued from Boko Haram terrorists by the Nigerian military. A convoy of armed vehicles brought 275 women and young children to a school that has been turned into a refugee camp.
They came from Sambisa Forest, the last stronghold of the Islamic extremists, where the Nigerian army said it has rescued more than 677 girls and women and destroyed more than a dozen insurgent camps over the past week.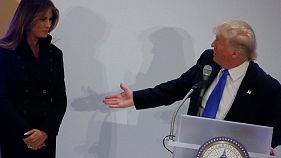 Trump called his wife to speak at the luncheon honouring his supporters on the eve of his swearing in as the 45th U.