Celebrations in Baltimore as six officers are charged with the death of African-American Freddie Gray
Comments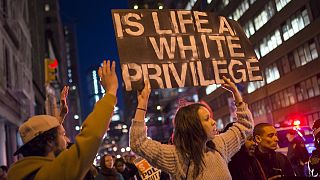 People celebrated in the US city of Baltimore on Friday after the announcement that six police officers have been charged in connection with the death of Freddie Gray.
The young black man died as a result of a critical neck injury that he received while he was in police custody.
One of the police officers concerned has been charged with murder and the five others with lesser crimes connected with Gray's death.
The charges brought some relief to Baltimore's streets after two weeks of protest ended in a riot on Monday, and prompted this statement from Gray's stepfather Richard Shipley.
"We are satisfied with today's charges. These charges are an important step in getting justice for Freddie, and we ask whoever comes to our city, a city that we love, a city that we live in, come in peace."
However a lawyer for the officers concerned said on Friday that his clients had done nothing wrong and that the charges are premature.
"We believe that the actions taken today by the state's attorney are an egregious rush to judgment and we have grave concerns about the fairness and integrity of the prosecution of our officers", said Michael Davey.
Despite the charges a midnight curfew remained in place in Baltimore on Friday. Some of those who defied it were arrested just minutes after it came into force.