SNP leader Nicola Sturgeon: The Darling of the Debates
Comments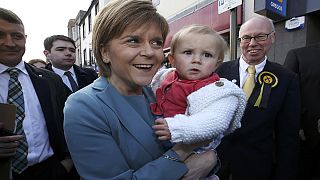 Just as Liberal Democrat Nick Clegg emerged as the star of Britain's first televised election debates in 2010, SNP leader Nicola Sturgeon has impressed in 2015.
Clear, confident, and passionate in her arguments – whether you agree with them or not – Scotland's first female First Minister put up a stirring performance against Cameron, Miliband and the other leaders in what is shaping up to be the closest British election since the 1970s
.
And with her party on course to almost wipe out Labour in Scotland, the ex-solicitor now
stands poised to play a key role in post-election horse-trading.
She has offered to support a Labour minority government in order to lock David Cameron and his Tories out of Downing Street.
The rise and rise of Nicola Sturgeon
A working-class background was no barrier to Nicola Sturgeon's achievements.
Born in the Scottish town of Irvine in 1970, she received encouragement and support from her family and went on to study law at Glasgow University, later working as a solicitor in the city.
The Scottish National Party though was always a part of her adult life. Sturgeon joined the SNP at the age of 16 and, as her official profile says, "has been campaigning for Scottish independence ever since".
Married to Peter Murrell, the SNP's chief executive, Sturgeon argues that as long as Scotland is within the Westminster system, she wants to make its people's voices heard.
A role for the SNP in any future deal with a Labour minority administration could be a delicate balancing act.
But Sturgeon has already demonstrated keen agility and equilibrium, taking to the beam during a recent campaign visit.
.NicolaSturgeon</a> holding the balance of power?! First Minister launches youth pledge in Cumbernauld <a href="https://twitter.com/hashtag/ge2015?src=hash">#ge2015</a> <a href="http://t.co/SH3t8We8kc">pic.twitter.com/SH3t8We8kc</a></p>&mdash; Carole Erskine (CaroleErskine) April 26, 2015