Italy calls for a Europe-wide response to the migrant crisis in the Mediterranean
Comments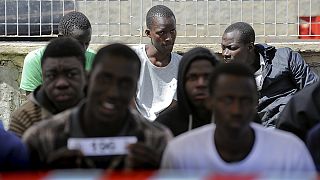 Italy's Foreign Minister Paolo Gentiloni has called for a Europe wide response to the wave of migrants risking their lives crossing the Mediterranean.
Capsize tragedy highlights Europe's surging migrant problem: Europe is staring at a new reality: "mig… http://t.co/QZhldf0vLY#thestar

— Canada News (@CanadaNews2) April 15, 2015
It follows confirmation that 400 people are missing after their boat capsized on Monday. They had been part of a wave of migrants – 10,0000 in the last five days – trying to get to the Italian coast.
"There is an Italian commitment for an issue that is not only Italian and so what we are clearly saying is that especially at a European level, we need to take care of the emergency, not as a single country but as a union," said the minister.
He went on to call for an increase in the budget of Triton – a limited replacement for Italy's Mare Nostrum maritime rescue mission.
Not enough is being done to save lives
International human rights organisations are also calling for Europe to bolster its maritime rescue operations.They say not enough is being done to save the lives of people trying to cross the sea to Europe.
Speaking after hearing of the last shipwreck killing 400, the UN High Commissioner for Refugees Antonio Guterres said:
"This only demonstrates how important it is to have a robust rescue as sea mechanism, in the central Mediterranean, unfortunately Mare Nostrum was never replaced by an equivalent capacity to rescue people."
Up to 20,000 people fleeing poverty and conflict have made the perilous crossing to Italy since the start of the year, similar to the same period in 2014, a year when a record 170,000 reached the country's shores.
Meanwhile in Libya – one of the main departure points for migrants – some 260 were detained by the authorities there before they attempted to cross into Europe.
tdy #Misrata coast guard stops a migrant boat of 200 migrants off shores & drag it back to Alkhoms port. the boat was heading to #Italy#EU

— Misrata الشويهدي (@Honeybal) April 12, 2015
Italy and Greece, another well used migrant entry point – are calling for help both on patrolling the sea lanes for stricken craft but also for countries to stop their own migrants from leaving in the first place.