Alert in Mexico after thieves steal radioactive material
Comments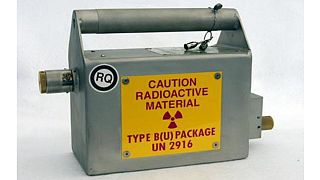 Five states in Mexico have been put on high alert after the theft of a radioactive substance described by authorities as "very dangerous".
A van carrying containers of Iridium-192, a substance used in industrial radiography, was taken from a local engineering firm on Monday night in Cardenas in Tabasco state.
If the iridium is handled without the appropriate safety precautions it could cause permanent lesions or, in cases of prolonged contact, death. The alert level has been raised in Tabasco as well as the states of Veracruz, Campeche, Chiapas and Oaxaca.
National civil protection coordinator Felipe Puente issued a warning on Twitter for people to stay away from the material.
En caso de localizar la fuente no realizar manipulación ni permanecer cerca, reportarla a los siguientes números: pic.twitter.com/LePt3BjI2a

— Luis Felipe Puente (@LUISFELIPE_P) April 16, 2015
Latest in a series of radioactive thefts
There have been several instances of theft involving radioactive material in the last few years, although in each case the thieves simply wanted to steal the vehicles carrying the substance and were unaware of its dangerous cargo.
On Sunday, authorities found a truck laden with highly toxic and flammable paraformaldehyde that had been stolen in Puebla state.
In February three vans carrying industrial-grade radioactive material were stolen in Hidalgo state and later recovered.
In December 2013, medical equipment containing the radioactive isotope Cobalt-60 went missing after the lorry transporting it was stolen near Mexico City. The culprits were found, arrested and hospitalised, although all survived.