British party manifestos unveiled ahead of May general election
Comments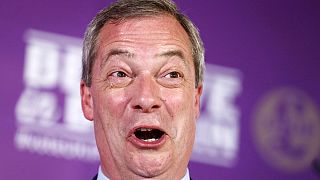 Britain's Liberal Democrat party has unveiled its manifesto ahead of the UK general election in three weeks.
The centre-left party has been the junior partner in a ruling coalition with David Cameron's conservatives since 2010.
Party leader Nick Clegg urged voters to back the Lib Dems rather than his rivals.
"Do you want Nigel Farage walking through the door of Number 10? Do you want Alex Salmond sat at the cabinet table? Or do you want the Liberal Democrats?," Clegg asked at an event in London. "The Liberal Democrats will add a heart to a Conservative government and a brain to a Labour government."
UK Independence Party (UKIP)leader Nigel Farage reassured his supporters that his policies of sharply cutting immigration and leaving the EU after a referendum were still in place.
"We are the only party standing in this general election saying we want a trade deal with Europe, we want to be good neighbours with our European friends, but we desperately seek a referendum so that we can set this country free from political union," Farage said.
Farage appealed to voters at the party's manifesto launch with a promise to increase defence spending, to take Britain back from the EU and not tax people earning the minimum wage.