Emergency aid arrives in conflict-hit Yemen as air strikes continue
Comments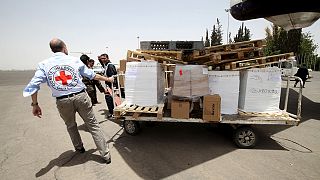 As the Saudi-led coalition pursues air strikes on Shi'ite Houthi rebels in Yemen – now in their third week – the humanitarian situation on the ground is being described as catastrophic, with hundreds killed..
In the capital Sanaa, weapons storage sites were targeted in a sixteenth straight day of air strikes on Friday.
At Aden in the south, the Saudis said a sports stadium used to store ammunition had been bombed.
Two planes carrying emergency aid from the Red Cross and UNICEF arrived in Sanaa on Friday, the first such deliveries from international aid groups since the heavy fighting began.
The parliament of Sunni-majority Pakistan has voted not to join the Saudi-led military intervention, dashing Riyadh's hopes for powerful support from outside the region.
"(Parliament) desires that Pakistan should maintain neutrality in the Yemen conflict so as to be able to play a proactive diplomatic role to end the crisis," the chamber said.
A suicide car bomb detonated outside a security building used by Houthi militiamen in central Yemen on Friday, killing at least 20 people, residents and a local official said.
The Sunni militant group Al Qaeda in the Arabian Peninsula said it was behind the attack in Shabwa province, which has seen heavy fighting between Houthi fighters and local militiamen, backed by the
Saudi-led air strikes..
The air campaign was denounced by thousands of Houthi supporters who protested in Yemen's rebel controlled capital on Friday..
The Saudis fear the violence could spill over their border with Yemen.
There is also concern about the influence of Shi'ite Iran, which denies
claims it has provided military support to the Houthis.
Iran's Supreme Leader Ayatollah Ali Khamenei has called the Saudis involvement in Yemen "genocide," raising tensions between the regional powers.