These were the chaotic scenes in Chile after rains hit the north of the country, causing flooding.
Seven people have died and 19 are still unaccounted for, according to Reuters.
The downpours in what is normally a dry region have been the heaviest in about 80 years, although the worst of the bad weather appears to be over, meteorologists said.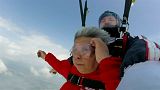 A 70-year-old grandmother has become an internet star in China after she took up skydiving.