"Love not war" was the message in Berlin ahead of a meeting between German Chancellor Angela Merkel and Greek Prime Minister Alexis Tsipras.
While tensions persist between the two countries over Greece's bailout reforms, activists took part in a "kiss-and-hug marathon" to put across a different message.
Greek-German couples and friends kissed and hugged to promote the spirit of inter-European cooperation and reconciliation.
Avaaz, the activist group organising the event, said: "Instead of fighting, we should hold onto one another."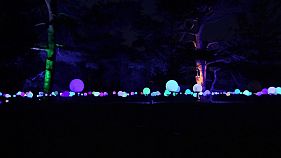 Flaming torches, yuletide carols, singing trees and lasers are all being deployed by the Royal Botanical Gardens at Kew in London.