Ukraine's war 'has harmed 1.7 million children'
Comments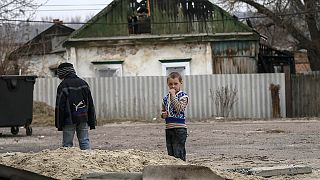 Children in the Ukraine-controlled village of Chermalyk play war with sticks among the real war damage. To them, the so-called 'bad guys' are the pro-Russian separatists.
Chermalyk, north of the strategic port of Mariupol, was badly damaged in fighting last year and earlier this year — like many other settlements.
They are friends with Ukrainian soldiers at a nearby military base, who give them real weapons to hold.
The boys talk about enlisting to protect their motherland.
The United Nations Children's Fund estimates that 1.7 million children on both sides of the front line have been harmed through lack of proper shelter, nutrition, medicine or schooling.
Tolik, who is 11, said he got too close to the real fighting: "The bullets tore through the cloth on my shoulder here and flew past… I was born lucky."
The homes of the Chermalyk boys, were not destroyed by rebel artillery fire like much of the town of Popasna, held by Ukraine, about five kilometres from the front line.
Tatyana Belash has taken shelter in a basement with her daughter Zlata.
The mother said: "She is three years old, she knows what a tank is, that's not normal! Children have psychological problems already at this age. What next? They say children of the 90s are unbearable. What will happen to these children? They will grow up among the ruins. There are no kindergarten or schools, nothing!"
There is an institutional home for abandoned children a few dozen kilometres away from Popasna, in Khartsyzk, on the rebel side. Here, when the boys play war, the so-called bad guys are the Ukrainian soldiers.
Seven-year-old Seryozha, drawing with coloured pencils and crayons, confuses flags on his battle tank, can't seem to decide whether to put the blue-and-yellow Ukrainian one or the separatists' black, blue and red.
Yulya, 12, and other children reject the Ukrainians against whom the rebels are fighting, repeating what they hear around them, or on television. Some are hardened.
Yulya used a derogatory term for Ukrainians, 'Ukrops', and said they don't deserve pity: "I understand that they are also people, but they kill people. My grandfather told me."
At least 6,000 have been killed in the conflict, and nearly 1.8 million people have been displaced.
Elena Nikulenko, Director of the home for abandoned children, said: "These children get information only from one side — that (government troops) shoot at us and that their fathers and brothers take arms to protect us. Children listen to the grown-ups talk. On one side there are 'Ukrops', as some people call them, and their fathers are called 'terrorists' and 'insurgents', so children call themselves terrorists too."
When benefits stopped in rebel areas, foster families dumped orphans a second time.