A cascading waterfall of about 200 metres wide has been formed at the Hukou Waterfall, in the middle reaches of the Yellow River, creating a spectacular scene and attracting many tourists in recent days.
The melting of upriver ice and increasing water discharge by the upstream reservoirs led to a surging water flow and formed the cascading waterfall in Jixian County, north China's Shanxi Province.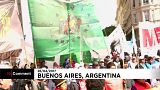 Farmers in Buenos Aires are giving away their produce to people in protest over conditions for small-scale producers.