Nearly 100 people tried to climb a six-metre-high fence covered in razor wire that marks the border of Spain. The migrants were flanked by police to CETI, a short-stay immigrant centre, local authorities said.
Around 15 people remained sitting on top of the fence for more than five hours as police in riot gear used a ladder to climb up the fence to talk with them.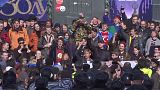 Thousands of people crowded into Moscow's Pushkin Square on Sunday for an unsanctioned protest against the Russian government.