As people marked the arrival of a new lunar year in Hong Kong on Thursday, worshippers could be seen rushing to the altar.
According to traditional Chinese time-keeping, 11pm on the eve of the lunar new year is an ideal moment to visit a temple to pray and light incense sticks. The hope is to bring as much good fortune for the coming year as possible.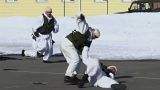 Russian soldiers held military exercises in Murmansk on Tuesday (25 April) in order to highlight the army's readiness to fight in severe weather conditions.