At least one person was killed and dozens injured in protests against natural gas exploration in a Peruvian jungle town this week, authorities and leaders said.
Protesters demanding that Argentine energy company Pluspetrol leave the remote jungle region broke into the firm's facilities on military land, destroying two tents and taking a water pump, the army declared.
Peru, rich in natural gas, is rife with conflicts over land rights and environmental concerns.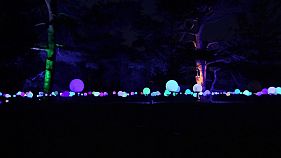 Flaming torches, yuletide carols, singing trees and lasers are all being deployed by the Royal Botanical Gardens at Kew in London.