Burning barricades of tyres and debris in the Haitian capital signalled the start of a two-day strike to protest against the high price of fuel.
Calling on Haitian President Michel Martelly to cut prices, protesters swarmed through the streets of Port-au-Prince, stopping vehicles and clashing with police who attempted to clear the roadblocks.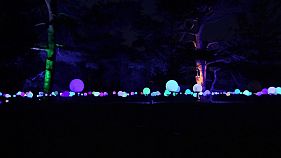 Flaming torches, yuletide carols, singing trees and lasers are all being deployed by the Royal Botanical Gardens at Kew in London.