After the end of Friday prayers, around 2,000 members of the Muslim Brotherhood and youth movements walked in downtown Amman to condemn the cartoons depicting the Prophet Mohammed in the new edition of Charlie Hebdo.
Protesters tried to reach the French embassy but the Gendarmerie personnel stopped them.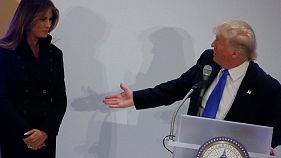 Trump called his wife to speak at the luncheon honouring his supporters on the eve of his swearing in as the 45th U.