Eight Islamic clerics flew in a helicopter over the crash site of AirAsia Flight 8501 on Tuesday (January 6) to pray for those who perished and scatter rice into the sea, a local tradition.
Indonesia's top military commander also began a tour of the area where 162 passengers and crew died when their plane disappeared early on December 28.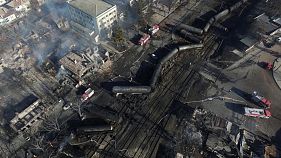 At least five people have died in northeastern Bulgaria following a gas explosion after a train derailed early on Saturday.