Images from inside Pakistan school show ferocity of militant assault
Comments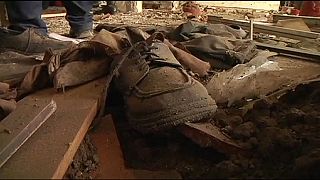 As the horrific details of the attack begin to emerge, and witnesses recount their ordeal, cameras have been allowed inside the school.
The sheer ferocity of the massacre is evident, with widespread damage from the explosions and the relentless firing of automatic weapons.
An army general showed reporters the aftermath, including the walls pockmarked with hundreds of bullet holes and the floors streaked with blood.
Major General Asim Saleem Bajwa showed reporters the aftermath.
"In this lobby these are the marks of the bullets, but then also six of the militants were killed here," he said. "So since they were wearing suicide jackets they exploded and that's why you see holes on the wall and you can see all the splinters on the roof and the wall."
The general says many of the victims were killed in the school's auditorium, before the gunmen went from classroom to classroom.
The militants were eventually chased by soldiers into a smaller administrative block, where they were shot.