Hagupit death toll rises to 27 as storm heads for Manila
Comments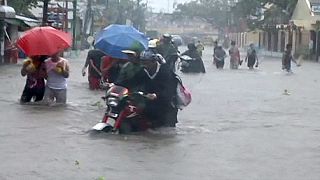 Typhoon Hagupit weakened into a tropical storm on Monday.
The Philippine Red Cross said that it had left at least 27 people dead in its wake, most of whom drowned in floodwaters.
Philippine authorities had launched a massive evacuation operation ahead of the storm -emptying entire towns and villages.
As the storm moves across a string of islands, forecasters expect it to be near the bustling capital by early Tuesday.
Manila residents fearing storm surges and floods have moved to temporary shelters.
The storm has forced more than one million people from their homes.
Minica Mendoza, one elderly evacuee, explained: "We are staying here because of the powerful storm. Our mayor told us to come here."
Despite the relief that Hagupit had not been as devastating as was feared, a major operation now remains to get supplies to people left homeless or without power.