Now Reading:
March for sexual diversity in Chile March for sexual diversity in Chile
Seven thousand people rallied in Santiago's streets on Saturday for the 17th annual march in favour of sexual diversity. Earlier this month, the Senate approved a more gay-friendly legislation known as the Couple Life Agreement that grants legal rights to non married heterosexual and same –sex couples. The legislation is awaiting a vote in the Chamber of Deputies. If gay marriage is not legal in Chile, it is now legal in Argentina, Uruguay, and Brazil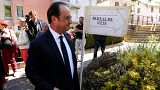 The incumbent Socialist president made the unusual move last year of pledging to not stand for re-election.