Now Reading:
Deadly rains in Nicaragua Deadly rains in Nicaragua
Heavy rains hit Managua, the capital of Nicaragua, on Thursday night. Nine people have died when five homes were crushed.
Rescue teams extracted seven other people, including two girls, struck under rubble.
Eighteen people have been killed in Nicaragua by bad weather conditions during the last two weeks.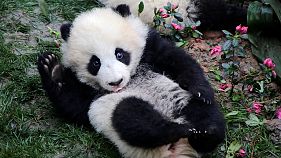 Giant pandas around the globe are welcoming the Spring Festival, or Chinese Lunar New Year, which falls on January 28 this year.