Now Reading:
Deadly rains in Nicaragua Deadly rains in Nicaragua
Heavy rains hit Managua, the capital of Nicaragua, on Thursday night. Nine people have died when five homes were crushed.
Rescue teams extracted seven other people, including two girls, struck under rubble.
Eighteen people have been killed in Nicaragua by bad weather conditions during the last two weeks.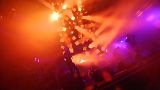 The French city of Lyon's "Nuit Sonores" electronica festival has kicked off for its 15th edition.