Now Reading:
Donetsk fighting continues despite ceasefire Donetsk fighting continues despite ceasefire
Pro-Russia rebels fired artillery rounds at Ukrainian positions at Donetsk airport on Tuesday. One commander who spoke to The Associated Press, said they would open the airspace over the 'Donetsk People's Republic' once they "take the airport." Providing the nom de guerre "Givi," he said that "everything that moves in the air is our enemy."
Although a ceasefire was declared in early September between Ukrainian forces and rebel fighters, it has been violated almost daily and fighting continues in the restive region.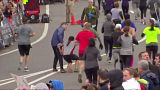 A woman close to collapsing at the end of the Philadelphia Love Run Half Marathon was given a helping hand as she approached the finish line.