Now Reading:
Typhoon Vongfong lashes parts of Japan Typhoon Vongfong lashes parts of Japan
Pictured from space, Typhoon Vongfong looks remarkably harmless.
But on the ground, it's a different story. The storm has unleashed winds of up to 180km per hour on parts of Japan.
The typhoon, the second to hit the country in a week, has affected the islands of Okinawa and Kyushu.
Thirty-five people have been reported injured and 150,000 evacuated.
The typhoon toppled trees, flooded streets and cut power to more than 60,000 homes.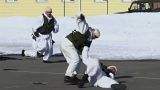 Russian soldiers held military exercises in Murmansk on Tuesday (25 April) in order to highlight the army's readiness to fight in severe weather conditions.