Now Reading:
Scuffles on anniversary of Haiti coup Scuffles on anniversary of Haiti coup
Supporters of former Haitian President Jean-Bertrand Aristide scuffled with riot police on Tuesday as they marched through the capital Port-au-Prince on the anniversary of a 1991 military coup that ousted the country's first democratically elected leader.
Thousands of Aristide supporters attempted to march from the church where the former president led services as a Catholic priest, to his house, but police fired tear gas to disperse them before they arrived.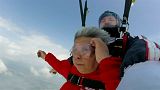 A 70-year-old grandmother has become an internet star in China after she took up skydiving.