Now Reading:
Scuffles on anniversary of Haiti coup Scuffles on anniversary of Haiti coup
Supporters of former Haitian President Jean-Bertrand Aristide scuffled with riot police on Tuesday as they marched through the capital Port-au-Prince on the anniversary of a 1991 military coup that ousted the country's first democratically elected leader.
Thousands of Aristide supporters attempted to march from the church where the former president led services as a Catholic priest, to his house, but police fired tear gas to disperse them before they arrived.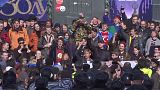 Thousands of people crowded into Moscow's Pushkin Square on Sunday for an unsanctioned protest against the Russian government.