Now Reading:
Indoor swimming pool for dogs Indoor swimming pool for dogs
For some, it can be a dog's life. But for those canines lucky enough to visit a special new facility in Germany, things are altogether rosier.
Hanau is the site for the country's first indoor swimming pool for dogs, which has been open for a month. Dog owners from all over the world have been bringing their pets to the facility. For 7.50 euros dogs can have an hour of swimming, with a shower and hair-drying facilities included in the price.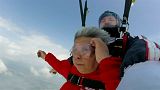 A 70-year-old grandmother has become an internet star in China after she took up skydiving.