Now Reading:
Whales beached in Italy Seven sperm whales beached themselves near the Abruzzo coastal town of Vasto in Italy. Four of them died.
"This is one of the worst environmental disasters in this region," said Luciano Lapenna, mayor of Vasto.
According to local environmental protection authority, the tragedy might be cause by the proximity of an oil rigs near this Adriatic beach.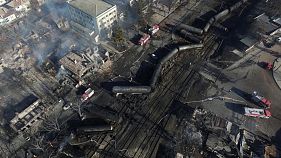 At least five people have died in northeastern Bulgaria following a gas explosion after a train derailed early on Saturday.