Jean-Claude Juncker, the incoming president of the European Commission, handed key economic and financial responsibilities to French and British members of a restructured, 28-strong team he unveiled on Wednesday.
French Socialist Former finance minister Pierre Moscovici takes the key portfolio of economic and monetary policy, though he will be supervised by former Finnish prime minister Jyrki Katainen and former Latvian prime minister Valdis Dombrovskis.
British Conservative Jonathan Hill takes a revamped portfolio entitled Financial Stability, Financial Services and Capital Markets Union – something the London government, outside the euro zone, had been pitching hard for. He will be in charge of relations with, among others, the European Banking Authority.
Danish liberal Margrethe Vestager will be in charge of the powerful competition portfolio that gives the EU a big say in the expansion or merger plans of the world's biggest companies, while former Slovenian prime minister Alenka Bratusek will oversee the EU's plan to create an energy union.
Sweden's Cecilia Malmstrom will have the task of negotiating the world's biggest trade agreement between the United States and Europe. Miguel Arias Caneta of Spain will be energy and climate change commissioner, though former Slovenian former premier Alenka Bratusek will have the more senior post of vice-president overseeing the development of an energy union.
Germany's Guenther Oettinger will have responsibility for the digital economy, a portfolio including the overhaul of the EU telecoms market. Elzbieta Bienkowska of Poland takes the role of commissioner for the internal market, industry, entrepreneurship and small business.
The new Commission is due to take office on Nov. 1, subject to its confirmation by the European Parliament.
EU Commission members by Country
Full list of the EU Commission members
President of the European Commission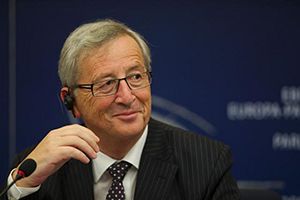 Jean-Claude Juncker
(Luxembourg)
Commissioners-designate


Frans Timmermans (The Netherlands)
First Vice-President
Better Regulation, Inter-Institutional Relations, the Rule of Law and the Charter of Fundamental Rights


Federica Mogherini (Italy)
High Representative of the Union for Foreign Affairs and Security Policy / Vice-President of the Commission
Vice-Presidents


Kristalina Georgieva (Bulgaria) Budget & Human Resources


Andrus Ansip (Estonia) Digital Single Market


Alenka Bratušek (Slovenia) Energy Union


Valdis Dombrovskis (Latvia) Euro & Social Dialogue


Jyrki Katainen (Finland) Jobs, Growth, Investment and Competitiveness
Members of the Commission


Maroš Šefčovič (Slovakia) Transport & Space


Günther Oettinger (Germany) Digital Economy & Society


Johannes Hahn (Austria) European Neighbourhood Policy & Enlargement Negotiations


Cecilia Malmström (Sweden) Trade


Neven Mimica (Croatia) International Cooperation & Development


Miguel Arias Cañete (Spain) Climate Action & Energy


Karmenu Vella (Malta) Environment, Maritime Affairs and Fisheries


Vytenis Andriukaitis (Lithuania) Health & Food Safety

Dimitris Avramopoulos (Greece) Migration & Home Affairs


Marianne Thyssen (Belgium) Employment, Social Affairs, Skills and Labour Mobility


Pierre Moscovici (France) Economic and Financial Affairs, Taxation and Customs


Christos Stylianides (Cyprus) Humanitarian Aid & Crisis Management


Phil Hogan (Ireland) Agriculture & Rural Development


Jonathan Hill (United Kingdom) Financial Stability, Financial Services and Capital Markets Union


Elżbieta Bieńkowska (Poland) Internal Market, Industry, Entrepreneurship and SMEs


Vĕra Jourová Justice (Czech Republic) Consumers and Gender Equality


Tibor Navracsics (Hungary) Education, Culture, Youth and Citizenship


Corina Creţu (Romania) Regional Policy


Margrethe Vestager (Denmark) Competition


Carlos Moedas (Portugal) Research Science and Innovation
All views
Get a different perspective
Every story can be told in many ways: see the perspectives from Euronews journalists in our other language teams.