Now Reading:
Chile: coup anniversary clashes Chile: coup anniversary clashes
Protesters clashed with police in Chilean capital Santiago on Sunday, ahead of a march to commemorate the 41st anniversary of the military coup that overthrew the constitutional government of President Salvador Allende.
Police used water cannons to disperse the protesters, many of them masked, who threw rocks in retaliation.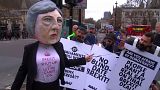 Demonstrators stage a protest outside of the Houses of Parliament ahead of the British PM Theresa May, triggering Brexit with Article 50.