Now Reading:
Chile: coup anniversary clashes Chile: coup anniversary clashes
Protesters clashed with police in Chilean capital Santiago on Sunday, ahead of a march to commemorate the 41st anniversary of the military coup that overthrew the constitutional government of President Salvador Allende.
Police used water cannons to disperse the protesters, many of them masked, who threw rocks in retaliation.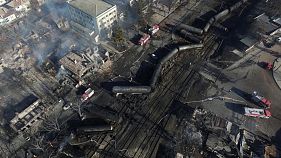 At least five people have died in northeastern Bulgaria following a gas explosion after a train derailed early on Saturday.