– "But if the bus company put on a double-decker in the morning, twice as many people would actually be able to make it to lectures!"
– "No, they can't do that. They have tried in the past, but drivers kept crashing in the building when they had to do a U-turn. You just have to get used to leaving earlier…"
That was a conversation between me and a lecturer during my first month at the University of the West of England, Bristol. Back then I was shocked by how irregular the buses were and how often people couldn't go to lectures because there wasn't enough space on the bus. I soon started accepting the whole situation as something normal and was leaving the house at least an hour before I was meant to, in order to reach my final destination.
Everyone felt that the buses were something no one could control and that it was pointless to even try to change them. Charlie Roper, the Students' Union President, had succeeded with his lobbying campaign!
Who is the Students' Union President?
Charlie's position as President is to represent students to the University and any other parties who they might interact with (like the bus operators). He works with a team of four Vice Presidents at the Students' Union. Each of them is responsible for a particular remit – Education, Community & Welfare, Sports & Health and Societies & Communication.
The Students' Union (SU) employs 81 permanent staff and many more student staff who support the elected officers and executive to implement their different ideas. That is how the bus campaign started – the idea was part of Charlie's manifesto, he came up with a plan for its realisation and the SU staff supported him through it.
Step by step
Unsurprisingly, more than 1,000 people agreed to take part in the research that the SU ran – public transport is something everyone feels passionate about in Bristol. After summarising the feedback from the students and coming up with concrete recommendations, Charlie met with the two companies running the public transport in Bristol.
"I went to meet with both companies with the view that it is in the best interests of both to listen to students' feedback," Charlie says. "I talked them through the recommendations and they came up with a response. They were proactive in doing so!"
Both companies pledged publicly to keep their promises, including more frequent bus services to campuses that run later into the night. The Students' Union informed all students about the upcoming improvements – in a city with two universities, students are important stakeholders – so this should be enough to guarantee the implementation of the changes for September.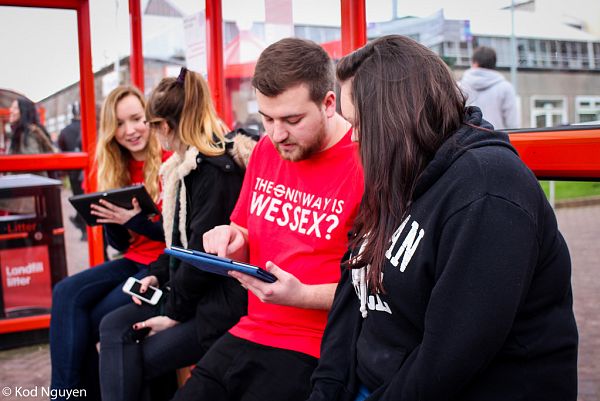 Hidden costs for the students
During Charlie's first year as a President of the SU, he ensured that ₤1,5 million will go back to the students over a period of 3 years. The Hidden Costs campaign that he ran used student feedback on the additional money they had to spend on printing, field trips and various other things connected to their course on top of their ₤9,000 annual fee. The SU carried out extensive research into what should be changed and talked to the university. As a result each undergraduate student will now receive a ₤15 printing allowance and all art students will get an additional ₤75 credit for art materials.
Active young people
Inspired by the work during his first mandate, Charlie decided to run for President for a second time. He won the support of his fellow students who vote annually for their representatives. The year ahead seems quite interesting for Charlie, with plans already underway for a campaign to encourage more people to take part in elections. In the UK you cannot vote, unless you are registered. Young people are often reluctant to register and that directly affects the politics in the country. "Why would you, as a politician, work for people who are not registered and cannot vote for you," Charlie explains the importance of voting.
Asked whether he thinks young people are still politically and socially active, Charlie doesn't hesitate and gives a great example with the Mental Health Campaign at UWE Bristol. It not only represents people with mental health problems, but also raises awareness of the importance of mental health. "You always get students who are active and want to change things," he adds. And, he should know, you have to be really proactive to change the buses in Bristol.
The success of the campaign for improving the transport services in Bristol is inspiring, as it proves once again that nothing is impossible and that the status quo can and should be changed. We just need to stop accepting the things that we don't like and to start challenging them.
So… what will you change today?
Photo credit: UWE Students' Union photographer – Kod Nguyen.