Now Reading:
US airstrikes in Iraq The US Navy released footage showing activities on the flight deck of the USS George H.W. Bush during operations. According to the State Department, the US has made 24 air strikes against the Islamic State of Iraq and the Levant (ISIL), also known as the Islamic State, since President Barack Obama first announced the strikes last week.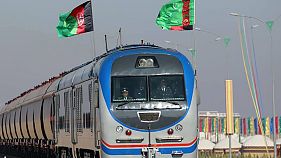 The presidents of Turkmenistan and Afghanistan on Monday officially opened a new railroad that will link the oil-rich former Soviet republic with Afghanistan.