Now Reading:
Israeli troops returning home Israeli troops returning home
Residents in Gaza were busy shopping for food on Tuesday, as a ceasefire between Israel and Hamas came into effect. Meanwhile, Israeli troops were returning home during the break in fighting in the Gaza Strip. Earlier on Tuesday, the Israeli military announced that all its ground troops would leave Gaza by the start of the new ceasefire.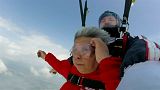 A 70-year-old grandmother has become an internet star in China after she took up skydiving.